week/s,
from
to
Without accomodation
Summer course for teens (June / July) Colegio Maravillas
Avenida Salvador Vicente, 9

Description
This course is designed for young people aged from 13 to 17 years and is held during school holidays - June to August - with flexible starting dates. It combines a formal classroom setting with a diverse program of supervised leisure activities, visits and excursions aimed to introduce students to Spanish culture, sports and lifestyles. The school is located in a safe residential area of Benalmádena, only 10 minutes walking distance from the beaches.
IMPORTANT: Check-in and check-out date are on Sundays
The course includes:
15 hours of Spanish lessons per week in small groups of 15 people maximum.
Level test, teaching material, diplome and participation certificate at the end of the course.
Accommodation with host families, double rooms (with other students), full pension.
4 afternoon sport activities per week: volleyball, basketball, badminton, table tennis and daily dance class: sevillanas, salsa and other Latin dances.
1 local visit per week: Málaga, Marbella, Mijas or Nerja.
1 day excursion per week: Ronda, Granada, Córdoba o Sevilla.
Evening entertainments: bowling, open-air cinema, video sessions, Theme park Tivoli World and 1 party night per week.
Assessment and nonitoring supervision at breaks.
Comfort and supervisión
We take special care on the security and comfort of the young students, for that we have established certain rules for all students to follow:
1. Language course attendance, afternoon and evening activities, as well as visits and excursions are mandatory.
2. Any student who take alcohol or any drug will be immediately expelled from the course without right to any refund.
3. Students must respect the curfew established by the school:
During the day: all students are allowed to leave without surveillance until 19:30.
In the evening: students can only leave if they show a parental permission and always respecting the school´s curfew. Please apply for the "permission form" that must be signed and returned 2 weeks before the arrival of your child to Spain.
Characteristics
Course timetable

9:30-13:00

Duration

maximum 6 weeks

Levels

A1 - С1

Lessons per week

15 lessons

Duration of the lesson

45 minutes

Minimum age

13 y/o

Students per class

máx 15

Is it discounted?

Is there a scholarship?

Certificate when course is completed

Yes
Enrollment fee

0.00 €

1 weeks

686.00 €

2 weeks

1298.00 €

3 weeks

1887.00 €

4 weeks

2433.00 €

5 weeks

3016.00 €

6 weeks

3608.00 €
Extras
Insurance

Price dependent on the number of weeks

Transportation to the airport: Málaga

45.00 € One way or Return only
90.00 € Round trip

1 extra night on full board basis

33.00 €

Transfer supplement for late arrival

25.00 €

Transfer supplement for early departure

25.00 €

Dietary supplement gluten free (1 week)

15.00 €

Dietary supplement gluten free (2 weeks)

30.00 €

Dietary supplement lactose free (1 week)

15.00 €

Dietary supplement lactose free (2 weeks)

30.00 €
Educator
Hi! I'm Monika Przysiecka,
Specialist in Spanish training for foreigners, graduated in Tourism and official Tourist Guide of Andalusia.
If you have any doubts about our courses or destinations open a chat and I will help you with what you need.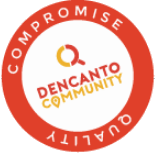 Our commitment
Independence

We visit and select the accredited training by the Cervantes Institute in all of Spain.

---

Personalised service

From 10 to 7 Monday to Friday and emergency calls 24/7.

---

Discounts

Up to 30% above the original price.

---

Secure payment

Secure payment.
| Type of accommodation | Room | Meal plan | Price | Special diet | Booking |
| --- | --- | --- | --- | --- | --- |
| Accommodation included | | | | | |
Last spaces
Take advantage of the the moment and get your spot before they run out.
Additional information
Avenida Salvador Vicente, 9

Characteristics of the center
Minimum age of the student
Monday to Friday, 9:00 a 20:00
Every Monday. Absolute participants 2019: January 8, February 4, March 4, April 1, May 6, June 3, July 1, August 5 and 19, September 2 & 16, October 7, November 4, December 2.
2019: January 1 - 7; Febrero 28; April 19; May 1; August 15; October 12; November 1; December 6 & 9. Christmas: December 23 - 31.
Facilities
The classrooms are spacious and luminous, all of them equipped with audiovisual means
Coffee and/or snacks machines
Biblioteca, terraza con una mesa de ping pong, cafetería.
Teaching
Native Spanish-speaking teachers
Books and educational material
textbooks and original materials
Accomodation
Available accommodation and its distance from the school
Shared apartment

10-15 minutes

Host Family

Maximum 15 minutes walk or by public transports
Only accommodation / Breakfast included / Half board
Study Sapanish at Colegio Maravillas
Accreditations and quality seals

Accreditation required

Other accreditation
Accreditations of Dencanto Community
Other courses that might interest you
Special programme for teenagers aged from 13 to 17. Spanish course and cultural activities are included

Special course for teenagers aged 13-17. Spanish course, accommodation and cultural activities are included