BCNLIP
Carrer d'Avinyó, 50

A small school situated in the middle of the Gothic Quarter, one of the most famous zones in Barcelona. The school is on the ground floor of a carefully restored historic building. The shool is decorated in modern style and offers a youthful atmosphere, making it a modern school for its facilities and teaching methods, while still maintaining its traditional charm for its 100-year-old surroundings.
Spanish courses
in BCNLIP
Educator
Hi! I'm Monika Przysiecka,
Specialist in Spanish training for foreigners, graduated in Tourism and official Tourist Guide of Andalusia.
The location of the school allows you to enjoy one of the most popular areas of Barcelona amongst tourists. It is good choice if you love a lively and modern atmosphere. You will be able to participate in different activities arranged by the school, so that you can get to know the city and its customs.
If you have any doubts about our courses or destinations open a chat and I will help you with what you need.
Location

Facilities

Teachers and teaching

Accomodation

Cultural program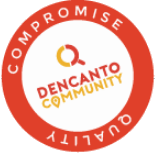 Our commitment
Independence

We visit and select the accredited training by the Cervantes Institute in all of Spain.

---

Personalised service

From 10 to 7 Monday to Friday and emergency calls 24/7.

---

Discounts

Up to 30% above the original price.

---

Secure payment

Secure payment.
Characteristics of the center
Minimum age of the student
Monday to Friday, 9:00–21:20, Saturdays 9:00–14:00, 16:00–20:00.
2019: January 1, April 19, April 22, May 1, June 10, June 24, August 15, September 11, September 24, October 12, November 1, December 6, December 25-26
Facilities
The decoration inside the classrooms is simple and functional, all of them are equipped with black tables and wooden chairs or chairs with folding desks in some cases. The classrooms are also equipped with standard blackboards and audio equipment, and in some of them there are computers. There are digital blackboards and projectors.
Coffee and/or snacks machines
Zona común con unos sofás en la entrada, pequeña zona en el pasillo con una barra para tomar un café o te.
Teaching
Native Spanish-speaking teachers
Humanities, Philology. All teachers have at least 5 years of experience teaching Spanish as foreign language.
Books and educational material
"Aula" teaching materials and original materials
Use of the new technologies
Edmodo is the online learning website used by the school. All classes have their own social networks
Accomodation
Available accommodation and its distance from the school
Host Family

Maximum 25 minutes walk or by public transports
Breakfast included / Half board / Full board
Transfer
Main airport
Barcelona (15 km )
Other airports
Girona (100 km )
Accreditations and quality seals of the school
Instituto Cervantes
FEDELE
Other schools in Barcelona