Castila
Aljibe del Gato Nº1

The school is built in a typical Carmen house located in the old quarter of Albaicín, within a pedestrian street and with views to the Alhambra – its location that is right in the heart of Granada allows you to learn, to take a rest, to read, to study, to watch films, to enjoy the flamenco, to dream…
The gardens, the lounges and the materials are available for the students from 8:00 to 22:00. Outside the school hours, the use of the materials and the facilities can also be at the disposal of the students with the previous permission from the school.
Spanish courses
in Castila
Educator
Hi! I'm Monika Przysiecka,
Specialist in Spanish training for foreigners, graduated in Tourism and official Tourist Guide of Andalusia.
It is a perfect school for those who are looking to stay in a calm and familiar atmosphere. The classes are small-sized with a maximum of six students in each, and this is what allows a closer relation between teacher and students. The student can enjoy the view of the emblematic monument of the city that is the Alhambra while taking the lesson. At the break, the students can indulge themselves either taking a coffee at the cafeteria or in the Carmen of the School- a typical Andalusian style garden.
If you have any doubts about our courses or destinations open a chat and I will help you with what you need.
Location

Facilities

Teachers and teaching

Accomodation

Cultural program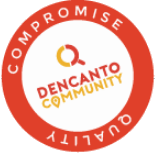 Our commitment
Independence

We visit and select the accredited training by the Cervantes Institute in all of Spain.

---

Personalised service

From 10 to 7 Monday to Friday and emergency calls 24/7.

---

Discounts

Up to 30% above the original price.

---

Secure payment

Secure payment.
Characteristics of the center
Minimum age of the student
17 (need a parental/tutor authorisation)
Monday to Friday, 9:00-20:00
Every Monday, except beginners: 16 and 30 Jul; 6 and 20 Aug; 3 and 17 Sep; 1, 15 and 29 Oct; 5 and 19 Nov; 3 and 17 Dec.
2019: January 1, February 28, April 19, May 1, August 15, October 12, November 1, December 6 and 25.
Facilities
Metal chairs with office seats or plastic chairs and wooden tables. There is TV, videos, DVD and multimedia means. As well as the air-conditioning and cheater are available
Coffee and/or snacks machines
Typical Andalusian garden, leisure and relax areas, and a small cafeteria that offers breakfast service. As well as there is a library-study room
Teaching
Native Spanish-speaking teachers
University degrees, Master in teaching, training course offered by the school
Books and educational material
ELE original teachig material, Castilla Publisher, videos and audios
Accomodation
Available accommodation and its distance from the school
Host Family

Maximum 20 minutes walk or by public transports

Shared apartment

5 minutes

Student residence

5 minutes walk to the school
Only accommodation / Half board / Full board
Transfer
Main airport
Granada (20 Km )
Other airports
Málaga (136 Km )