Modern Languages Centre
Placeta del Hospicio Viejo S/N, 18009 Granada, Calle Molinos Nº65, 18009 Granada

The Modern Languages Centre is affiliated with the University of Granada and is located in the Centre of the city, in "El Realejo" quarter which is a few minutes walk from the City Council and the Nazarí palace at the Alhambra.
It is composed of two locations that only take seven minutes from one to another on foot. The main location is situated at the old Santa Cruz Palace, which was renovated for the teaching purposes in 1992. The second location is located at the old building of Hotel Kenia, which was also adapted for the same purposes in 2005.
At the Modern Language Centre, each day there is a great number of foreign students taking Spanish courses, as well as there are native students who are taking lessons offered on the extensive list of different foreign languages of the school each year. All this has allowed the establishment of the Language Exchange Service that facilitates the contact and the linguistic interaction between students of different nationalities.
Spanish courses
in Modern Languages Centre
Educator
Hi! I'm Monika Przysiecka,
Specialist in Spanish training for foreigners, graduated in Tourism and official Tourist Guide of Andalusia.
If you have any doubts about our courses or destinations open a chat and I will help you with what you need.
Location

Facilities

Teachers and teaching

Accomodation

Cultural program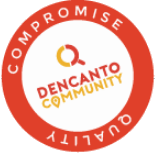 Our commitment
Independence

We visit and select the accredited training by the Cervantes Institute in all of Spain.

---

Personalised service

From 10 to 7 Monday to Friday and emergency calls 24/7.

---

Discounts

Up to 30% above the original price.

---

Secure payment

Secure payment.
Characteristics of the center
Minimum age of the student
16 and have finished secondary school
Monday to Thursday, 09:00 to 13:45 and 16:00 to 18:30, Friday 9:00 to 13:45
2019: April 18 and 19; May 1 & 3; June 20 & 21; August 15.
Facilities
Plastic and wooden chairs, plastic and/or wooden tables. Projectors and whiteboards. Air-conditioning and heaters
Coffee and/or snacks machines
Spacious inner courtyard and balconies that open up to access the courtyard, on the first floor. The students can use the University canteen service of the University of Granada by showing the CLM student card
Teaching
Native Spanish-speaking teachers
University degrees, with specialization in foreign language teaching, experts from different departments of the University of Granada
Books and educational material
"Abanico" teaching materials of the difusión Publisher and other materials
Use of the new technologies
Accomodation
Available accommodation and its distance from the school
Transfer
Main airport
Granada (20 Km )
Other airports
Málaga (136 Km )