Cervantes Escuela Internacional
Av. Juan Sebastián Elcano, 89, 29017 Málaga

Cervantes Escuela Internacional is a Spanish language school in Malaga located two minutes away from the beach and only a ten-minute bus ride from the historic city centre. Its great location provides students with endless leisure opportunities, helping them fully integrate into the Spanish culture and make the most of their Spanish lessons in Cervantes Escuela Internacional.
Within the school, there are seven classrooms, all very bright and fully equipped with projectors, computers and digital whiteboards, giving students the best environment to learn Spanish in Malaga.
Students have plenty of areas to study and relax outside of their Spanish lessons, as the school has a small garden and a beautiful patio as well as a lounge with a library, PCs and WiFi. There are also vending machines with snacks, cold drinks and hot drinks available in the school.
Aside from its great range of facilities, Cervantes Escuela Internacional prides itself on offering the best and most modern teaching methods available, based on communication and practical use of the language. The interactive methods enable you to speak Spanish from day one and make quick progress.
Educator
Hi! I'm Monika Przysiecka,
Specialist in Spanish training for foreigners, graduated in Tourism and official Tourist Guide of Andalusia.
Cervantes Escuela Internacional would make an excellent choice for a Spanish school in Malaga due to its dedication to high quality teaching. Not only does the school have 30 years of experience, but it also puts emphasis on the use of new technologies (such as smart boards, ebooks, and online materials), interactive lessons, and having highly-qualified teachers.
Its facilities are excellent and it has an unbeatable location right by the beach, providing students with plenty of opportunities to explore the city while they learn Spanish in Malaga.
If you have any doubts about our courses or destinations open a chat and I will help you with what you need.
Location

Facilities

Teachers and teaching

Accomodation

Cultural program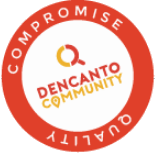 Our commitment
Independence

We visit and select the accredited training by the Cervantes Institute in all of Spain.

---

Personalised service

From 10 to 7 Monday to Friday and emergency calls 24/7.

---

Discounts

Up to 30% above the original price.

---

Secure payment

Secure payment.
Characteristics of the center
Minimum age of the student
14 (with parental consent)
Monday to Friday, 9:00 to 17:00
2019: January 7; February 28; April 19; May 1; August 15 and 19; September 9; October 12; November 1; December 6 and 9. Christmas holidays: from December 23, 2019 to January 3, 2020.
Facilities
The classrooms in Cervantes Escuela Internacional are spacious, bright and equipped with heating and air conditioning. All classrooms are equipped with projectors, computers and digital whiteboards.
Coffee and/or snacks machines
Cervantes Escuela Internacional has a small garden with benches and a nice and sunny patio where they also organise some activities.
Teaching
Native Spanish-speaking teachers
The tutors of Cervantes Escuela Internacional are philologists, specialized in teaching Spanish to international students.
Books and educational material
Original materials prepared by the teachers of Cervantes Escuela Internacional.
Use of the new technologies
The teachers of Cervantes Escuela Internacional work with new tecnologies daily, using a digital book, interactive whiteboards, interactive games and other resources during their classes.
Accomodation
Available accommodation and its distance from the school
Shared apartment

Maximum 20 minutes walk

Host Family

Maximum 20 minutes walk
Only accommodation / Half board / Full board
Transfer
Main airport
Málaga (8 km )
Study Spanish at Cervantes Escuela Internacional
Accreditations and quality seals of the school
Instituto Cervantes
FEDELE
EEA
Terms and conditions (Cervantes Escuela Internacional)
Number of students per class
The maximum number of students per class is 9. The school reserves the right to increase the number of students in a classroom up to 12 for logistic reasons.
The school reserves the right to reduce the course hours up to 50% if the number of students does not reach 3 students per class.
This is applied to courses like Super Intensive Plus, Intensive Plus and Intensive, and other courses (except for the private lessons).
The students do not receive financial compensation for the deduction in the course duration.
The school´s administration will compensate that deduction by offering the student a more personalized course in smaller groups that will have a positive effect on language acquisition.
The school reserves the right to inform the student about the deduction of his course duration before it takes place or at any moment during its development.
There´s a level test every Monday at 8 am, except holidays, in which case the test will take place on the following Tuesday at 8 am.