CLIC Málaga
C/ Santa Lucía, 7

CLIC Malaga is a medium-sized Spanish language school in Malaga, strategically located in the busy, commercial area of the city, right next to the lively Calle Larios.
This spanish school in Malaga offers high quality services, including a wide range of cultural and social activities aimed at making the student's experience as memorable as possible.
CLIC Málaga has eight fully equipped classrooms with TVs, computer, whiteboard and A/C. The school has 14 balconies looking onto two pedestrianised strees.
There is Wi-Fi available in the whole building, a cozy reception with sofas and a coffee machine, computers for the students' use and a very nice a friendly atmosphere!
Educator
Hi! I'm Monika Przysiecka,
Specialist in Spanish training for foreigners, graduated in Tourism and official Tourist Guide of Andalusia.
If you have any doubts about our courses or destinations open a chat and I will help you with what you need.
Location

Facilities

Teachers and teaching

Accomodation

Cultural program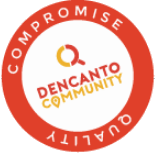 Our commitment
Independence

We visit and select the accredited training by the Cervantes Institute in all of Spain.

---

Personalised service

From 10 to 7 Monday to Friday and emergency calls 24/7.

---

Discounts

Up to 30% above the original price.

---

Secure payment

Secure payment.
Characteristics of the center
Minimum age of the student
Todos los lunes. Principiantes absolutos 2020: 7, 20 Enero; 3, 17 Febrero; 2, 16, 30 Marzo; 13, 27 Abril; 11, 25 Mayo; 8, 22 Junio; 6, 20 Julio; 3, 17, 31 Agosto; 14, 28 Septiembre; 13, 26 Octubre; 9, 23 Noviembre; 14 Diciembre.
2022: 6.01; 28.02; 14.04; 15.04; 2.05; 15.08, 19.08; 08.09; 12.10; 1.11; 6.12; 8.12; 24.12 - 8.01.2023
Facilities
Coffee and/or snacks machines
Teaching
Native Spanish-speaking teachers
Licenciados universitarios
Books and educational material
Accomodation
Available accommodation and its distance from the school
Shared flat

25 minutes max. by foot or public transport

Host family

max. 25 minutes

Private studio apartment

10 min.
Only accommodation / Breakfast included / Half board / Full board
Transfer
Main airport
Málaga (8 km )
Learn Spanish at CLIC Malaga
Accreditations and quality seals of the school
Instituto Cervantes
IALC
International House