Enforex Granada
Calle Palacios 13

Although it is situated in its actual building since 2017, Enforex Granada was established in 1985 with the name Don Quijote, thus, it can be considered as a very experienced school. Currently, Enforex Granada is located in Realejo quarter, in one of the most important neighbourhoods of the city for the cultural activity, of leisure, and its history, since it was an old Jewish quarter. In former days, the building belonged to the Clarisas nuns who managed a female University student residence.
The school has enriched in facilities, with common areas (canteen, student lounge, inner court, transit areas, and even a small gym). Its main entrance opens up access to the Santo Domingo Square where the Statue of Fray Luis of Granada and the Church of Santo Domingo are located.
One of the most important features is that the school has its own residence on the upper part of the building and that allows you to enjoy the time to the maximum.
Educator
Hi! I'm Monika Przysiecka,
Specialist in Spanish training for foreigners, graduated in Tourism and official Tourist Guide of Andalusia.
After the change of location in 2017, Enforex Granada has gained in many aspects. It is now one of the biggest 10 schools in Spain with numerous classrooms and with its own residence located inside the same building where the lessons are carried out. It is well located in the old Jewish quarter of the city, Real and this offers great cultural variety and leisure.
If you have any doubts about our courses or destinations open a chat and I will help you with what you need.
Location

Facilities

Teachers and teaching

Accomodation

Cultural program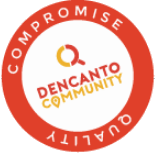 Our commitment
Independence

We visit and select the accredited training by the Cervantes Institute in all of Spain.

---

Personalised service

From 10 to 7 Monday to Friday and emergency calls 24/7.

---

Discounts

Up to 30% above the original price.

---

Secure payment

Secure payment.
Characteristics of the center
Minimum age of the student
7 (need a parental authorisation)
Monday to Friday, from 9:00 to 20:00
2019: February 28; March 4; April 18 and 19; May 1; August 15th; October 10, November 1; December 6 and 9.
Facilities
Metal chairs with office seats, wooden tables. The classrooms are equipped with blackboards, stereo, two of them attached to the digital boards, three of them have projectors
Coffee and/or snacks machines
A multifunctional lounge. There are vending machines with coffee and snacks, as well as there are tables and chairs to sit and relax. Besides the reception desk there is a waiting area furnished with sofas. On the upper floor there is a library
Teaching
Native Spanish-speaking teachers
Hispanic Philology and/or degrees in English, Geography and History
Books and educational material
Prisma teaching materials, photocopies
Use of the new technologies
Use of mobile phones and/or lap-top in the cultural workshops
Accomodation
Available accommodation and its distance from the school
Host family

Maximum 30 minutes walk or by public transports

Student residence

The residence and the school are in the same building.

Shared apartment

25 minutes walk
Only accommodation / Breakfast included / Half board / Full board
Transfer
Main airport
Granada (20 Km )
Other airports
Málaga (136 Km )
Study Spanish at Enforex Granada