Don Quijote Barcelona
Carrer de Mallorca, 27, 08029 Barcelona

Don Quijote Barcelona lleva más de 30 años enseñando español. Tiene un ambiente adulto y academico. La palabra modernidad es la descripción adecuada de la escuela, ya que tiene una decoración bicolor y elegante. La escuela está ubicada en un edificio de tres plantas que ofrece mucho espacio a los estudiantes, tanto durante como fuera de las clases, incluso una terraza y otras zonas comunes con sofás, mesas y máquinas expendedoras. Las aulas están muy bien equipadas con equipamiento educativo como pizarras digitales y proyectores, y hay WiFi disponible a través de la escuela.
Don Quijote está muy bien ubicada al estar rodeado de numerosos restaurantes y tiendas y por estar muy bien conectada con las paradas del metro y del autobús. Los estudiantes pueden aprovechar al máximo el curso de español que hagan en Barcelona ya que la escuela está situada en el prestigioso barrio de Eixample, a solo unos pasos de las atracciones principales de la ciudad. Si quieres una escuela de español en Barcelona en el que puedas vivir al máximo la experiencia en esta ciudad, Don Quijote Barcelona es la escuela ideal para ti.
Spanish courses
in Don Quijote Barcelona
20 clases de español en grupo por semana

Curso de español 25 clases a la semana
See more courses
Educator
Hi! I'm Monika Przysiecka,
Specialist in Spanish training for foreigners, graduated in Tourism and official Tourist Guide of Andalusia.
Recomendamos Don Quijote Barcelona por sus fantásticas instalaciones y sus años de experiencia enseñando español. Esta escuela destaca por su moderna decoración, que hace que sea un ambiente motivador para aprender español. Además, su localización es una ventaja maravillosa por lo que puedes disfrutar de los principales atractivos de la ciudad mientras aprendes español al mismo tiempo en Barcelona.
If you have any doubts about our courses or destinations open a chat and I will help you with what you need.
Location

Facilities

Teachers and teaching

Accomodation

Cultural program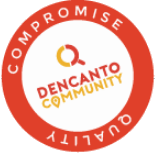 Our commitment
Independence

We visit and select the accredited training by the Cervantes Institute in all of Spain.

---

Personalised service

From 10 to 7 Monday to Friday and emergency calls 24/7.

---

Discounts

Up to 30% above the original price.

---

Secure payment

Secure payment.
Characteristics of the center
Minimum age of the student
17 (con autorización de los padres/tutores)
De lunes a viernes de 9:00 a 19:00.
2020: 1, 6 Enero; 10, 13 Abril; 1 Mayo; 1, 24 Junio; 15 Agosto; 11, 24 Septiembre; 12 Octubre; 1 Noviembre; 6, 8, 25, 26 Diciembre.
Facilities
Mesas y sillas de madera. Algunos disponen de pizarras digitales, proyectores y televisión.
Coffee and/or snacks machines
Salones muy espaciosos con sofá y mesitas, terraza. Sala audiovisual y biblioteca
Teaching
Native Spanish-speaking teachers
Licenciados universitarios en filología hispánica y/o traducción e interpretación.
Books and educational material
Manual Prisma y material propio, fotocopias
Accomodation
Available accommodation and its distance from the school
Familia anfitriona

Max. 30 minutos andando o en transporte público de la escuela

Residencia de estudiantes

Aprox. 10 minutos andando
Breakfast included / Half board / Full board
Transfer
Main airport
Barcelona (15 km )
Other airports
Girona (100 km )
Estudiar español en Don Quijote Barcelona
Other schools in Barcelona