Don Quijote Valencia
Carrer dels Cadirers, 5, 46003 València, Valencia

Housed in a fully renovated 15th-century palace, this Spanish school in Valencia emanates culture and Old World charm. As you pass under the soaring stone archways and make your way up the winding central staircase each morning, you'll feel inspired to soak up all the Spanish you can. The bright, high-ceilinged classrooms help support the pleasant learning environment our experienced teachers cultivate to put our students at ease and get them comfortable speaking in Spanish every day. Once surrounded by Valencia's medieval city walls, the neighborhood is filled with both historic treasures and the dynamic energy of a modern European city, keeping you immersed in and enthralled by the Spanish language and culture.
Spanish courses
in Don Quijote Valencia
20 group Spanish lessons + 3 cultural activities per week.
See more courses
Educator
Hi! I'm Monika Przysiecka,
Specialist in Spanish training for foreigners, graduated in Tourism and official Tourist Guide of Andalusia.
If you have any doubts about our courses or destinations open a chat and I will help you with what you need.
Location

Facilities

Teachers and teaching

Accomodation

Cultural program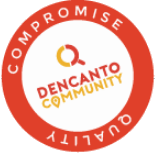 Our commitment
Independence

We visit and select the accredited training by the Cervantes Institute in all of Spain.

---

Personalised service

From 10 to 7 Monday to Friday and emergency calls 24/7.

---

Discounts

Up to 30% above the original price.

---

Secure payment

Secure payment.
Characteristics of the center
Minimum age of the student
Facilities
Bright and spacious, well equipped classrooms.
Coffee and/or snacks machines
Teaching
Native Spanish-speaking teachers
Books and educational material
Accomodation
Available accommodation and its distance from the school
Student residence

max. 30 min
Transfer
Main airport
Valencia (8 km )
Other airports
Alicante (178 km )
Other schools in Valencia