Enfocamp Madrid
Carretera Pozuelo a Majadahonda, Km 1.800, 28223 Pozuelo de Alarcón, Madrid

Enfocamp Madrid is a summer camp organized by the Enforex school in the facilities of the prestigious Francisco de Vitoria University (Pozuelo de Alarcón, Madrid). It is an American-style campus, surrounded by gardens. It has sports facilities such as tennis and paddle courts, soccer fields and basketball courts. In addition, there are facilities for horse riding and a swimming pool near the camp.

Camp facilities also include bright and spacious rooms (single and double), equipped with all the amenities for a comfortable stay. Each room has air conditioning and private bathroom. Common areas include, among others, a TV room and a computer room.

The atmosphere of an international university campus combined with the enthusiasm of the staff makes Enfocamp Madrid a perfect place for students to learn Spanish, get to know other cultures, grow personally and above all enjoy an unforgettable summer.
Spanish courses
in Enfocamp Madrid
Day Camp in the summer camp, Spanish classes and activities from Monday to Friday from 9:00 a.m. to 7:30 p.m.

All-inclusive programme for students aged 5 - 17.
See more courses
Educator
Hi! I'm Monika Przysiecka,
Specialist in Spanish training for foreigners, graduated in Tourism and official Tourist Guide of Andalusia.
If you have any doubts about our courses or destinations open a chat and I will help you with what you need.
Location

Facilities

Teachers and teaching

Accomodation

Cultural program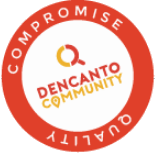 Our commitment
Independence

We visit and select the accredited training by the Cervantes Institute in all of Spain.

---

Personalised service

From 10 to 7 Monday to Friday and emergency calls 24/7.

---

Discounts

Up to 30% above the original price.

---

Secure payment

Secure payment.
Characteristics of the center
Minimum age of the student
2019: Every Monday from June 16 to August 5. Depending on the length of stay.
2020: 1, 6 Enero; 9, 10 Abril; 1, 2, 15 Mayo; 15 Agosto; 12 Octubre; 1, 2, 9 Noviembre; 6, 7, 8, 25 Diciembre.
Facilities
Coffee and/or snacks machines
Teaching
Native Spanish-speaking teachers
Licenciados universitarios
Books and educational material
Enfocamp Madrid utiliza el manual PRISMA.
Accomodation
Available accommodation and its distance from the school
Transfer
Main airport
Madrid (12 km )