Enforex Marbella
Av de Ricardo Soriano, 43, 29600 Marbella

Enforex is a Spanish school in Marbella which is located just five minutes from the beach and a short walk from all of the main attractions. The schoo isl designed around open air spaces that allow students to enjoy the city's excellent year round weather. The classrooms at Enforex Marbella are spacious and bright.
Spanish teachers are committed to teaching Spanish in the most efficient and effective way, while always keeping class fun and interesting!
There is also a wonderful terrace where you can relax in the warm Andalusian sun between classes.
Educator
Hi! I'm Monika Przysiecka,
Specialist in Spanish training for foreigners, graduated in Tourism and official Tourist Guide of Andalusia.
If you have any doubts about our courses or destinations open a chat and I will help you with what you need.
Location

Facilities

Teachers and teaching

Accomodation

Cultural program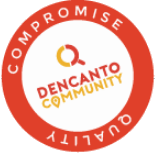 Our commitment
Independence

We visit and select the accredited training by the Cervantes Institute in all of Spain.

---

Personalised service

From 10 to 7 Monday to Friday and emergency calls 24/7.

---

Discounts

Up to 30% above the original price.

---

Secure payment

Secure payment.
Characteristics of the center
Minimum age of the student
14 (need a parental authorisation)
Monday to Friday, 9:00 to 22:00
2022: January 1; January 6; February 28; April 14; April 15; May 1; May 2; June 11; August 15; October 12; October 19; November 1; December 6; December 8; December 25; December 26.
Facilities
All classrooms have audiovisual means, air conditioning and natural light
Coffee and/or snacks machines
Teaching
Native Spanish-speaking teachers
Hispanish studies, philology and other degrees
Books and educational material
Prisma teaching materials
Accomodation
Available accommodation and its distance from the school
Host Family

Maximo 30 minutes walk or by public transports

Shared apartment

Maximum 30 minutes walk or by public transports
Only accommodation / Half board / Full board
Transfer
Main airport
Málaga (66 km )
Learn Spanish at Enforex Marbella
Accreditations and quality seals of the school
Instituto Cervantes
CSN
Bildungsurlaub
FEDELE
Other schools in Marbella