Enforex Barcelona
Diputación, 92

Enforex Barcelona is a larger Spanish school in Barcelona. It has the capacity to host up to 550 students, and is located within a modern and spacious building with four floors within the prestigious Eixample neighbourhood.
Aside from the school's 50 bright, fully-equipped, air-conditioned classrooms, it offers students plenty of common areas to relax after their Spanish language classes in Barcelona. This includes a stunning terrace, open all year round with plenty of seating and sunshine, comfy and bright indoor areas with bean bags and sofas, as well as a cafeteria area with vending machines and plenty of seating so you can truly feel at home during your Spanish course in Enforex Barcelona.
There is also a library and a computer room for students to continue their Spanish or catch up with family and friends.
Aside from the ample facilities, the decoration of the school reflects the fun and avant-garde aspects of Barcelona, with canvasses and murals of the city's famous landmarks like the Sagrada Familia.
Educator
Hi! I'm Monika Przysiecka,
Specialist in Spanish training for foreigners, graduated in Tourism and official Tourist Guide of Andalusia.
Enforex Barcelona is a Spanish school in Barcelona that really maintains a homely feel while providing students with top quality facilities and keeping them at and their needs at the forefront of their teaching. The location of the school makes it a great choice, as it is located in the heart of the city in the Eixample neighbourhood, close to Las Ramblas and many bus and metro stops.
If you have any doubts about our courses or destinations open a chat and I will help you with what you need.
Location

Facilities

Teachers and teaching

Accomodation

Cultural program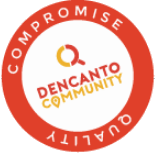 Our commitment
Independence

We visit and select the accredited training by the Cervantes Institute in all of Spain.

---

Personalised service

From 10 to 7 Monday to Friday and emergency calls 24/7.

---

Discounts

Up to 30% above the original price.

---

Secure payment

Secure payment.
Characteristics of the center
Minimum age of the student
Monday to Friday, 9:00-19:00
Festivos 2021: 01/01, 06/01; 02/04; 05/04; 01/05; 24/05; 24/06; 15/08; 11/09, 24/09; 12/10; 01/11; 06/12, 08/12, 25/12. Clases perdidas por los días festivos no se recuperan ni se descuentan. Si hay 2 festivos en una semana, se recuperan las clases de 1.
Facilities
Enforex Barcelona offers 50 bright classrooms equipped with air conditioning and central heating. In each classroom there is a large table with chairs or chairs with folding tables, a blackboard and audio-visual equipment necessary for Spanish classes.
Coffee and/or snacks machines
Enforex Barcelona dispone de amplias zonas comunes. Cuenta con una terraza solarium abierta todo el año, una sala común con mesitas de cafetería y máquinas vendedoras, zona de descanso con sofas y una biblioteca.
Teaching
Native Spanish-speaking teachers
All Spanish teachers at Enforex Barcelona are university graduates. Philology, hispanic studies or other degrees.
Books and educational material
The Enforex Barcelona school uses the PRISMA textbook.
Accomodation
Available accommodation and its distance from the school
Shared apartment

10-15 minutos on foot

Host family

10-15 minutes on foot

Student residence

10-15 minutos caminando.
Only accommodation / Breakfast included / Half board / Full board
Transfer
Main airport
Barcelona (15 km )
Other airports
Girona (100 km )
Learn Spanish at Enforex Barcelona
Other schools in Barcelona