Escuela Montalbán
C/ Conde Cifuentes Nº 11

Escuela Montalbán offers since 1986 Spanish courses in Granada, one of the most amusing cities in the south of Spain. It is located in a centric and calm neighborhood down-town, and its building represents the Andalucian style house with its typical inner courtyard, which is the meeting point for the students. All the classrooms are luminous and have either the outdoor-view or are facing the courtyard.
The atmosphere is especially friendly between teachers and students, and the main reason is because as it is a medium-size school, it allows the students to achieve a stable progress in the mastery of Spanish.
Educator
Hi! I'm Monika Przysiecka,
Specialist in Spanish training for foreigners, graduated in Tourism and official Tourist Guide of Andalusia.
The atmosphere inside the classroom is very friendly and close. With 30 years of teaching Spanish, Escuela Montalbán is one of the most experienced schools throughout Spain.
If you have any doubts about our courses or destinations open a chat and I will help you with what you need.
Location

Facilities

Teachers and teaching

Accomodation

Cultural program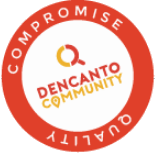 Our commitment
Independence

We visit and select the accredited training by the Cervantes Institute in all of Spain.

---

Personalised service

From 10 to 7 Monday to Friday and emergency calls 24/7.

---

Discounts

Up to 30% above the original price.

---

Secure payment

Secure payment.
Characteristics of the center
Minimum age of the student
14 (students younger than 18 need written authorization from their parents).
Monday to Thursday, from 9:00 to 18:00. Fridays: from 9:00 to 15:00. Between 26 Dec 2016 and 06 Jan 2017, from 9:00 to 15:00
2019: February 28; March 4; April 18 and 19; May 1; August 15th; October 10, November 1; December 6 and 9.
Facilities
Wooden tables with wooden and plastic seats. There is audio and video equipment in each classroom
Coffee and/or snacks machines
An inner Andalusian courtyard, with plants and very luminous. It is used by the students as the meeting point and as a place to relax. The school also has a lounge area for the students
Teaching
Native Spanish-speaking teachers
Hispanic Philology and Geography and History degree
Books and educational material
Tandem textbook, original teaching materials. The teachers work with copies and grammar books and exercises
Use of the new technologies
Use of mobile phones in some classrooms
Accomodation
Available accommodation and its distance from the school
Host family

Maximum 20 minutes walk

Shared apartment with foreign students

20 minutes walk

At the teacher´s home

30 minutes by public transports

Student residence

20 minutes walk
Only accommodation / Breakfast included / Half board / Full board
Transfer
Main airport
Granada (20 Km )
Other airports
Málaga (136 Km )
Study Spanish at Escuela Montalbán
Accreditations and quality seals of the school
Instituto Cervantes
CSN Sueco
fedele
Bildungsurlaub
Terms and conditions (Escuela Montalbán)
Included in the enrolment fee (50 €):
Administration costs, Escuela Montalbán App with touristic information about Granada, free Internet access/WIFI, use of library and multimedia room.

Accommodation placement fee: 30 €

Included in the course fee:
Level-testing, Spanish course, educational material (photocopies and textbooks), the costs of some of the activities included in the cultural programme, certificate of attendance and language exchange where applicable.

Not included in the course fee:
Airport transfers, travel insurance, the costs of some activities included in the cultural programme, SIELE certificate.

All course and accommodation fees are in Euro (€).

The minimum age of students is 15 years' old (except school trips and Spanish courses for families); students younger than 18 need written authorization from their parents. Escuela Montalbán accepts no responsibility for any accidents that may occur outside of the Spanish school, nor for loss or theft of personal property on our permises. Travel insurance can be obtained through the school, if required.

Holidays without Spanish classes:
28. February - 30. March - 01. May - 31. May - 15. August - 12. October -
01. November - 06. December.
There are no Spanish classes on national and local holidays. These classes are not recoverable, except in the case of 1 week Spanish courses and Individual Spanish courses.

Last day of class 2018: 21. December.
First day of class 2019: 07. January.
We don't offer courses between 24.12.2018 and 04.01.2019; the office remains open.
CANCELLATION

In the event of a cancellation, the school will reserve the right to retain the advance payment of 120 €. However, this fee will remain valid for another course in the future. Students who start but do not finish their programme will not be refunded any amount of course and accommodation fees.

The school never cancels any course, even if there is only one participant. If the school is forced to cancel a course, activity or service contracted previously by the student, the school will refund the full amount.

The school reserves the right to cancel a course if forced to do so by unusual or unforeseeable circumstances beyond the control of the school (war, civil or political unrest, terrorist activity, natural or nuclear disaster, fire or adverse weather conditions, or other similar events beyond the control of the school). The school will refund all course and acommodation costs.
VISAS for students from non-European countries.
Before you enrol for a Spanish course please note that the conditions for granting a Visa include medical insurance covering your stay abroad, a residential address in Granada and sufficient financial means. You can obtain information regarding a Visa application from the Spanish Embassy in your country. Addresses of Spanish Embassies worldwide can be found at the website of the Spanish Ministry of Foreign Affairs.
REGISTRATION

Complete the enrolment form and send it to us.
After we have received your booking, we will send you confirmation of your reservation by e-mail, including the total amount of course and accommodation fees to be paid.
At the same time, we will ask you for a deposit of 120 € which will be deducted from the full amount. If the advance payment is not received within the prescribed period, we reserve the right to cancel the reservation.
We will reserve your Spanish course and accommodation on receipt of the deposit. You will receive the course confirmation, a written level test, plus information about your Spanish course and accommodation, useful details about your journey and a map of Granada, by e-mail.
The remainder of the course and accommodation fees must be paid before the Spanish course starts or during the first days of the course at our office.