Giralda Center
Avda. Menéndez Pelayo, 16

Giralda Center was founded in 1983 and has been receiving students from all over the world for more than 30 years so far. Currently, it is located in a modern building with 18 spacious classrooms, all of them equipped with technology for learning. The school is also equipped with facilities for disabled access.
The school is located in the centre of the city: a few minutes walk from Santa Cruz quarter and the main monuments and places of interest and it is surrounded by the gorgeous Murillo Parks.
Spanish courses
in Giralda Center
10 lessons totally adapted to the student
See more courses
Educator
Hi! I'm Monika Przysiecka,
Specialist in Spanish training for foreigners, graduated in Tourism and official Tourist Guide of Andalusia.
Besides offering courses for Spanish as a foreign language, Giralda Center also offers courses in English, French, German and Italian, and all this is what create a multicultural ambiance and of exchange, which is an added value in favour of the students.
All the courses include 8 hours of cultural activities and/or language workshops per week and free of charge.
If you have any doubts about our courses or destinations open a chat and I will help you with what you need.
Location

Facilities

Teachers and teaching

Accomodation

Cultural program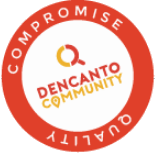 Our commitment
Independence

We visit and select the accredited training by the Cervantes Institute in all of Spain.

---

Personalised service

From 10 to 7 Monday to Friday and emergency calls 24/7.

---

Discounts

Up to 30% above the original price.

---

Secure payment

Secure payment.
Characteristics of the center
Minimum age of the student
Monday to Thursday 08:30 to 21:00, Fridays 08:30 to 20:00
2019: 1, 7 Jan; 18, 19, 23 Apr; May 1; June 12; 15 Aug; September 9; October 12 °; November 1st; 6, 9, 25 Dec.
Facilities
Spacious classrooms, equipped with interactive technology. Simple and functional furniture, wooden tables and office chairs, or chairs attached to folding tables
Coffee and/or snacks machines
Teaching
Native Spanish-speaking teachers
Books and educational material
Original teaching materials, created and developed by the school´s teaching staff
Accomodation
Available accommodation and its distance from the school
Host Family

Maximum 20 minutes walk

Host family with private bathroom

Maximum 20 minutes walk

Shared apartment

20 minutes walk

Shared apartment with private bathroom

20 minutes walk
Only accommodation / Half board / Full board
Transfer
Main airport
Seville (10 km )
Other airports
Málaga (215 km )
Accreditations and quality seals of the school
Cervantes Institute
FEDELE
EEA
CSN