Hispania
Bernat y Baldoví, 11, 46010 Valencia

Hispania Valencia was established in 2002. It is located in a detached house within the university area and next to the Rectorate of the University of Valencia and the Plant hatchery Parks. It also owns another building right next to it that serves especially for organised groups.
From the school, taking a short walk of approximately 5 minutes, you can reach the centre of the city, a historic part of Valencia and the main area of shops, bars and cinema.
Next to the school there are also the Club of Tennis of Valencia and the riding Club for the amateurs of sports who wish to practice them during their stay in Valencia, and the Turia Park, a park of 8 km long that acrosses the city and takes its start-point from the Zoo of the Biopark to get to the City of Arts and Sciences.
By taking the bus at the bus stop that is next to the school o by metro, students can reach the beach within 10 minutes and enjoy the pleasant moments of relax.
Spanish courses
in Hispania
Educator
Hi! I'm Monika Przysiecka,
Specialist in Spanish training for foreigners, graduated in Tourism and official Tourist Guide of Andalusia.
Hispania combines teaching quality with a friendly approach, creating a very pleasant learning environment.
One of the main characteristics of this Spanish school in Valencia is its flexibility. In Hispania you can choose how many classes you attend each week and choose your preferred time for each class, and if you can not attend class, you can take it back another day. Also, you can start your Spanish course on any day of the week and adapt it to your schedule.

Hispania is located in the lively university neighborhood, from where you can easily reach both the historic center of Valencia and the beach. This location is perfect if you want to enjoy all that the city of Valencia can offer.
If you have any doubts about our courses or destinations open a chat and I will help you with what you need.
Location

Facilities

Teachers and teaching

Accomodation

Cultural program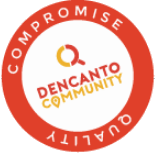 Our commitment
Independence

We visit and select the accredited training by the Cervantes Institute in all of Spain.

---

Personalised service

From 10 to 7 Monday to Friday and emergency calls 24/7.

---

Discounts

Up to 30% above the original price.

---

Secure payment

Secure payment.
Characteristics of the center
Minimum age of the student
Monday to Friday, 8:30 to 19:00.
Todos los lunes. Principiantes absolutos 2020: 7, 20 Enero; 3, 17 Febrero; 2, 16, 30 Marzo; 14, 27 Abril; 11, 25 Mayo; 8, 22 Junio; 6, 20 Julio; 3, 17, 31 Agosto; 14, 28 Septiembre; 13, 26 Octubre; 9, 23 Noviembre; 7, 21 Diciembre.
2019: January 1; March 19; April 19 and 22; May 1; June 24; August 15; October 9; December 25.
Facilities
Modern and very bright classrooms. Equipped with plastic chairs and plastic or metal tables. Two of the classrooms are equipped with digital boards, portable projectors, whiteboards
Coffee and/or snacks machines
A terrace and small courtyard by the entrance
Teaching
Native Spanish-speaking teachers
University graduates especialised in the teaching of Spanish as a foreign language, training course carried out by the school itself
Books and educational material
Photocopies and original materials
Use of the new technologies
Computer software management, use of PC and mobile phones in class
Accomodation
Available accommodation and its distance from the school
Shared flat

Maximum 20 minutes walk

Host family

Maximum 20 minutes walk
Only accommodation / Half board / Full board
Transfer
Main airport
Valencia (8 km )
Other airports
Alicante (178 km )
Learn Spanish at Hispania
Other schools in Valencia