Academia Mester
Vázquez Coronado, 5

The school was founded in 1991 and is located in the historic old town of the city of Salamanca.
The staff at Mester is always well-disposed to help the student either before, during or after their program of studies.
Academia Mester offers the international students the chance to explore, enjoy and take part of a unique and different life style: the Spanish way of life.
Spanish courses
in Academia Mester
Educator
Hi! I'm Monika Przysiecka,
Specialist in Spanish training for foreigners, graduated in Tourism and official Tourist Guide of Andalusia.
If you have any doubts about our courses or destinations open a chat and I will help you with what you need.
Location

Facilities

Teachers and teaching

Accomodation

Cultural program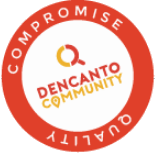 Our commitment
Independence

We visit and select the accredited training by the Cervantes Institute in all of Spain.

---

Personalised service

From 10 to 7 Monday to Friday and emergency calls 24/7.

---

Discounts

Up to 30% above the original price.

---

Secure payment

Secure payment.
Characteristics of the center
Minimum age of the student
16, students under 18 need a parental authorization. The students under 16 can join a course companied by his/her father/mother or a tutor.
Monday Thursday, 9:00 to 14:00 and 16:00 to 20:00; Fridays, 9:00 to 14:00 and 16:00 to 19:00
The school is open all year except from 8 Dec 2017 to 8 Jan 2018
Facilities
Office chairs and wooden tables. Digital boards, PC, audio means
Coffee and/or snacks machines
A small corridor and gym available for all the students
Teaching
Native Spanish-speaking teachers
Hispanic philology and other degrees in humanities
Books and educational material
Accomodation
Available accommodation and its distance from the school
Host family

Maximum 15 minutes walk

Student residence

Maximum 15 minutes walk

Shared apartment

Maximum 10 minutes walk

Private apartment

Maximum 5 minutes walk from the school
Only accommodation / Half board / Full board
Transfer
Main airport
Madrid (230 km )
Other airports
Valladolid (130 km )
Other schools in Salamanca