Proyecto Español Alicante
Calle García Morato, 41

The school is situated right in the heart of Alicante, on the Costa Blanca. It is modern in style but with a familial touch.
It is strategically located close to the places of interest of the city, and has a wide range of general and specific courses, for long-term study as well as for DELE exam preparation.
Their shared goal is to combine teaching and experiences of total immersion in the culture of the country.
Educator
Hi! I'm Monika Przysiecka,
Specialist in Spanish training for foreigners, graduated in Tourism and official Tourist Guide of Andalusia.
We recommed this school because it offers a wide range of courses suited for all needs and for those who want to learn Spanish in a relaxing and summery atmosphere, perfect for learning. Alicante is a perfect city to study and enjoy life, the culture and the city in general.
If you have any doubts about our courses or destinations open a chat and I will help you with what you need.
Location

Facilities

Teachers and teaching

Accomodation

Cultural program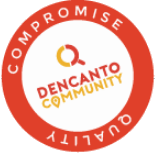 Our commitment
Independence

We visit and select the accredited training by the Cervantes Institute in all of Spain.

---

Personalised service

From 10 to 7 Monday to Friday and emergency calls 24/7.

---

Discounts

Up to 30% above the original price.

---

Secure payment

Secure payment.
Characteristics of the center
Minimum age of the student
Every Monday. Dates for absolute beginners, 2020: January 27; February 24; March 23; April 6 & 20; May 4 & 18; June 1, 15 & 29; July 6, 13, 20 & 27; August 3, 10, 24 & 31; September 7 & 21; October 5 & 19; November 16.
2022: Jan 6; Apr 15, 28; June 24; Oct 12; Nov 1; Dec 6.
Facilities
Pleasant atmosphere equipped with air-conditioning, audiovisual equipment, WI_FI, computers.
Coffee and/or snacks machines
There is a leisure area for the students
Teaching
Native Spanish-speaking teachers
Books and educational material
Accomodation
Available accommodation and its distance from the school
Shared apartment

Maximum 20 minutes walk

Host family

Maximum 20 minutes walk
Only accommodation / Half board / Full board
Transfer
Main airport
Alicante-Elche (11 km )
Other airports
Alicante-Elche for 2 people (price per person) (181 km )
Study spanish at Proyecto Español Alicante
Accreditations and quality seals of the school
Cervantes Institute
FEDELE