Tandem Madrid
Calle del Marqués de Cubas, 8, 28014 Madrid

Founded in 1982, Tandem Madrid is a Spanish school in Madrid located in the heart of the city next to the Prado Museum and the Circulo de Bellas Artes. The school itself is located in a refurbished 19th-century house and its decades of experience has earned its recognition as one of the most prestigious training schools in Spain.
The almost 200-year-old building makes the school a charming place to learn in, maintaining its traditional architecture with stained-glass windows and high ceilings. Apart from its beautiful décor, Tandem Madrid has 12 classrooms with either projectors or television screens in each, and other common areas. These common areas include: a computer room, a library, a study area and a small courtyard for students to catch up with their Spanish or with each other.
There is also WiFi available throughout the school and vending machines for quick snacks between lessons. Tandem has a wide range of courses available, including the teacher training courses that the school started off with, and their over 30 years of experience guarantees you the best teaching at one of the best Spanish schools in Madrid.
Educator
Hi! I'm Monika Przysiecka,
Specialist in Spanish training for foreigners, graduated in Tourism and official Tourist Guide of Andalusia.
We recommend this school due to its amazing reputation and over a quarter of a century of experience. This experience makes the school stand out and ensures a high quality of teaching for all students. Another one of the school's strong suits is its wide range of courses, for all ages, interests and levels, including not only its teacher training courses, but its combined Spanish courses with cultural elements such as gastronomy, flamenco and literature. With its top-quality teaching and facilities, you can't go wrong with Tandem Madrid.
If you have any doubts about our courses or destinations open a chat and I will help you with what you need.
Location

Facilities

Teachers and teaching

Accomodation

Cultural program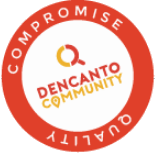 Our commitment
Independence

We visit and select the accredited training by the Cervantes Institute in all of Spain.

---

Personalised service

From 10 to 7 Monday to Friday and emergency calls 24/7.

---

Discounts

Up to 30% above the original price.

---

Secure payment

Secure payment.
Characteristics of the center
Minimum age of the student
16 (need a parental authorisation)
Monday to Friday, 8:30 to 19:30
2019: January 1 & 7; April 18 & 19; May 1, 2 & 15; August 15; October 12; November 1 & 9; December 6, 9 & 25. Christmas: December 23, 2019 – January 2, 2020.
Facilities
All of the 12 classrooms in Tandem Madrid are equipped with a projector or a TV connected to the Internet that can be used during the Spanish lessons.
Coffee and/or snacks machines
Teaching
Native Spanish-speaking teachers
All teachers at Tandem Madrid are university graduated in Spanish Philology.
Books and educational material
Spanish teachers at Tandem Madrid use Pasaporte text book for their lessons.
Accomodation
Available accommodation and its distance from the school
Shared apartment

20 minutes by subway

Host Family

Maximum 30 minutes on foot or in public transports

Residencia

10 minutes on foot
Only accommodation / Breakfast included / Half board / Full board
Transfer
Main airport
Madrid (12 km )
Study Spanish at Tandem Madrid
Accreditations and quality seals of the school
Instituto Cervantes
FEDELE
CSN
Bildungsurlaub
Terms and conditions (Tandem Madrid)
1. The course fee includes: enrolment, course book, information about the school and Madrid,
some cultural activities, Internet and Wi-Fi access at the school, attendance and level certificate (please note that
our courses don't lead to an official certificate). TANDEM PARTNER Service, film and music CD loan service. We offer a student assistance service (purchase of tickets, information on transport, etc.). Tutorial sessions with teachers.
2. Not included in the course fee: Airport transport, travel health insurance, some activities in the cultural
program, final examination, DELE Examination fees.
Included in the accommodation fee 30 € : organising and scheduling accommodation.